John Franklin – Owner / Fully Qualified Plumber / Fully Qualified Gas Fitter
Franklin Plumbing and Gas originated in 2017 when John decided he was ready go out into the industry on his own.John knew he had what it takes to make a successful business work; he had the skill, the brain, and the knowledge to make his business grow, flourish, and succeed. And that is exactly what he has done!!
With 10 years in the industry, John has done it all when it comes to plumbing from fixing a leak to plumbing up a 20-story high rise.
In his spare time john will often be at the family property training horses and mustering cattle. He has represented his state and county in the sport polocrosse in previous years.
Adam Lee – Fully Qualified Tradesman
Adam has been a part of the FPG Family for just over 12 months. Adam has over 30+ years of plumbing experience including lead supervisor during construction of The Q1. His knowledge of plumbing is shown in his work.
When Adam's not on the tools he enjoys spending his days out on his boat fishing and camping.
Ben Hastings – Fully Qualified Tradesman 
Ben is one of our newest team members, joining FPG in 2020, and fitting straight in to become a valued member of our family. Ben has been a fully licensed plumber for 2 years and knows his way around a worksite like that back of his hand.
When he's not on the tools at work, he is on the tools at home knocking out some new renovations on his home or camping with his family, including his new baby daughter.
Michael Abi-Fares – Apprentice
Mickey is our apprentice who finished high school and jumped straight into an apprenticeship role at FPG. Mickey has been with the FPG family for over 2 years.
He enjoys staying active, playing rugby with his mates, and tinkering around with his car.
Emelie McCarthy – Accounts
Emelie has been there from the beginning, helping John build Franklin Plumbing and Gas from the ground up! Emelie is about to undergo her CPA. With over 10 years of Accounting and Finance experience in various industries. She has a broad range of skills and attention to detail that is required to oversee a growing business. With Budget and Forecasting on the horizon, we now have a full-time bookkeeper to assist with day-to-day activities.
When Emelie isn't behind the scenes making sure FPG is running smoothly, you can find her in the paddock with her many horses.  
Dearne Driver – Assistant Account & Bookkeeper
Dearne has been a part of the FPG family since July 2020. She has an extensive background in accounting and bookkeeping.
Dearne enjoys horse riding, playing chess, soaking up the sun rays at the beach and travelling.
Jade Gardner – Administration
Jade has a background in administration, working in Sales Administration in the Real Estate industry for over 9 years. She has also spent time working as a Business Managers Assistant in the car industry before taking on her role as our main Officer Administrator at FPG. She works closely alongside John and the tradies to make sure everything runs as smoothly as can be.
In her spare time, Jade enjoys spending time with her husband, 3 kids and her puppy, either in the garden pruning her many plants or camping somewhere peaceful, enjoying the serenity.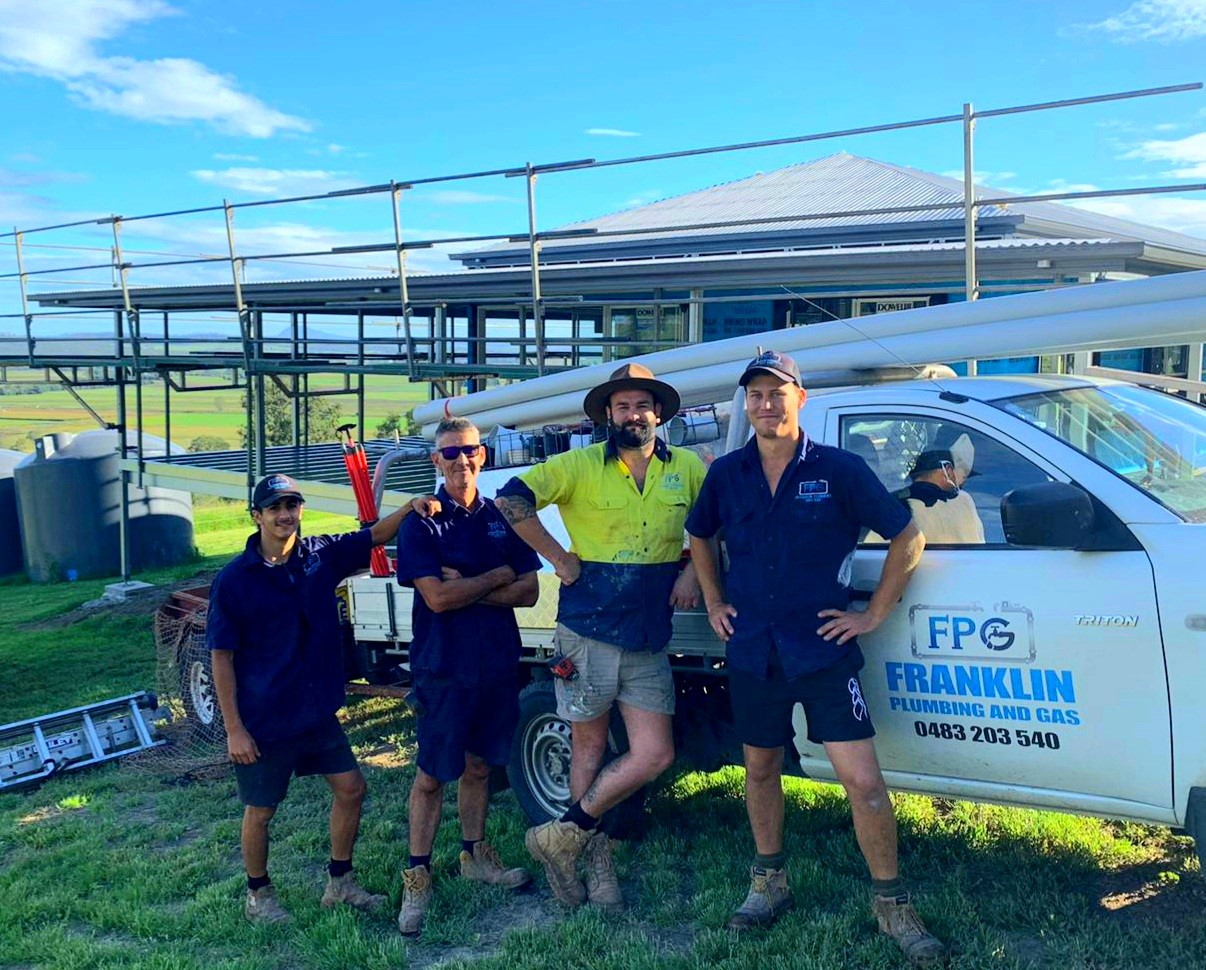 Frequently Asked Questions
Do you do small jobs like leaking taps?
Yes, we do projects large and small – from leaking taps, bathroom refits, gutting and drains. Whatever plumbing and heating issues you have, we are ready to take the job on. 
Are you licensed?
Yes, every member of our dedicated team is a licensed plumber or gas engineer and we are qualified to carry out all plumbing and gas work on your property.
Will I be insured while you are carrying out my work?
Yes, we hold insurance that protects you and your property against any accidental damage.
Do you provide quotes before you start the work so I know the cost?
Of course, ahead of any work we undertake we conduct a comprehensive quote to provide you with a price for the job. We're focused on complete transparency and ensuring that clear communication in maintained at all times at all times.
Do you work on commercial properties as well as residential properties?
Yes, if you have a commercial property located on the Gold Coast that needs annual maintenance, safety checks or repairs please call now to discuss how we can assist you with you needs.